Description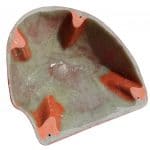 Climbing Volume Moon H11 DUAL is made of fiberglass, which makes it considerably lighter but strong. It has dual texture and a grip type of edge or sloper, depending on how you place it on the climbing wall. The structure measures 100x40x10cm. It is suitable for assembling routes or boulders on climbing walls in profiles with an inclination of up to 60°. Volume is one of the more difficult to grip. For assembly, it uses wood screws.
Inside the holes for self-tapping screws, there are metal washers, which significantly increase the product life

For durability of construction, we add the ribs, which are extended to the end, and create a filling of the holes for screws
Climbing Volume Moon M5 DUAL
| | |
| --- | --- |
| Holds in set: | 1 |
| Size: | XTR |
| Dimensions: | 100x40x10cm |
| Type of grip: | Sloper, edge |
| Usage – Angle | 0°-60° |
For installation on a wooden surface of 18-20mm (plywood, particleboard…)
Wood screws 4,5×40
6pcs
Fasteners are not included in climbing set
All climbing holds are suitable for outdoors and indoor use.
© Anatomic 2023, Designed by Marek Repčík