When ordering climbing holds you have to think about which surface you˙ll use and how you will install your holds. The best option is installing. The best option is mounting to a wooden board (plywood) using T-nuts and Allen screws. Of course, there is more possibilities. Holds can be fixed to the concrete using dowels, but if you want clean holds sometimes, replace them or mess up, you˙ll have a lot of work!
Fasteners

To nail climbing holds you will need T-nuts M10/12, Allen (Socket) srews size 10/40, 10/60 or 10/80 and wood screw 4,5×40. Wood screw prevents rotation of the hold. The size of Allen screw depends on the thickness of plywood and on size of climbing hold.
As a base board we will use a wooden board – for example plywood of 1.8 or 2 cm thickness.
Preparation of wooden board
Before installing holds we must prepare our wooden board first. We drill holes in the board with a diameter of about 1.20 cm. Make holes in places where you considerate to put climbing holds. We drill in places where we will consolidate holds or create a grid of holes. With the basic grid you can change positions of holds later more easily. If you know in advance that you will never move holds, the grid isn´t necessary.

When finish drilling holes, hammer t-nut into each hole. Place them on the backside of the board. Then paint the front of the board. But be careful and avoid making the paint get into the holes.
Final Installation of Holds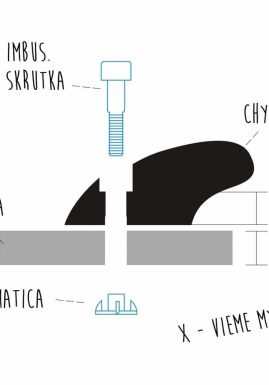 Fasten climbing holds with allen screws and wooden screws. to find out suitable size of allen screw you have to put the screw throught the hole in climbing hold. If the screw sticks out on the board thickness you´re good. Internal thread of t-nut and external thread os allen screw must fully overlap. It´s wrong if threads meet partially or not at all.

When fasten holds you can freely rotate them. But be aware, do not force fastening screws, you can cause damage on the hold. To prevent rotation of holds during climbing use wooden screw.