Description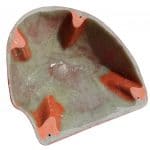 Climbing Volume Lamino Oval is made of fiberglass, which makes it considerably lighter but strong. It has a grip type of sloper.. The structure measures 78,5x46x9,5cm. It is suitable for assembling routes or boulders on climbing walls in profiles with an inclination of up to 30°. Volume is one of the more difficult to grip. For assembly, it uses wood screws.
Inside the holes for self-tapping screws, there are metal washers, which significantly increase the product life

For durability of construction, we add the ribs, which are extended to the end, and create a filling of the holes for screws
Climbing Volume Lamino Oval
| | |
| --- | --- |
| Holds in set: | 1 |
| Size: | XTR |
| Dimensions: | 78,5x46x9,5cm |
| Type of grip: | Sloper |
| Usage – Angle | 0°-30° |
For installation on a wooden surface of 18-20mm (plywood, particleboard…)
Wood screws 4,5×40
7pcs
Fasteners are not included in climbing set
All climbing holds are suitable for outdoors and indoor use.
© Anatomic 2023, Designed by Marek Repčík